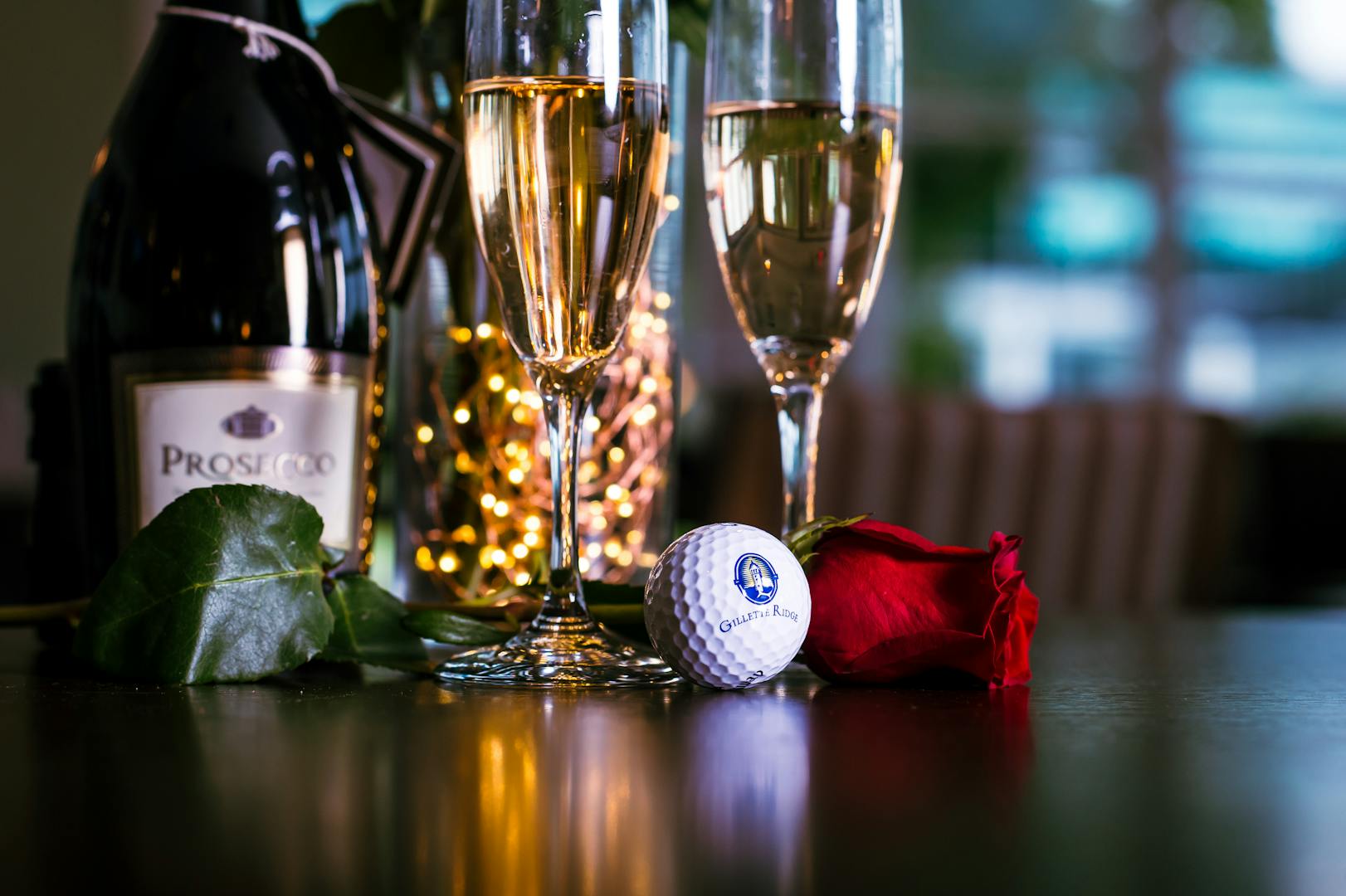 The restaurant at Gillette Ridge Golf Club is more than a great place for a beer after your round.  With multiple flat screens and a full-service kitchen and bar, this is a great location to watch the big game, have lunch with friends, or melt your work worries away with a quick happy hour retreat!
Our beautiful outdoor patio looks over the 10th and 18th holes, making this "the place" to watch the sun set over our beautiful Connecticut landscape. For your special event, we transform the space into one of Hartford's best wedding and special event venues. If a stark hotel banquet room is not your style, this intimate setting provides the perfect location to host friends and family on your big day!
The restaurant at Gillette Ridge Golf Club is open from 11am until 6pm Monday thru Friday. The beverage cart will run during play, and small snack items will be available for purchase in the golf shop. We are still taking reservations for private events outside of the normal operating hours!

CALAMARI ... $12
Dusted and flash fried, arugula, parmesan, lemon pepper aioli
ASIAN JERK RIBS ... $14
Fall off the bone braised secret rub, asian jerk sauce
CHICKEN WINGS...$12
8 wings with choice of Buffalo, Asian Jerk, Garlic Parmesan, or Dry Rub served with celery and Blue cheese
SIRLOIN STEAK SKEWER...$14
Hot and Sour marinade, grilled
MUSSELS...$12
Savory white miso marinade, crunchy garlic crostino

GARDEN SALAD...$9
Tender greens, garden vegetables and house made balsamic vinaigrette
CAESAR SALAD...$10
Romaine lettuce, aged parmigiana, candied bacon, house made Caesar dressing, and croutons
BURRATA SALAD...$14
Mixed greens, frisee, peppitas, supreme orange, burrata cheese, crostini, and house made turmeric drizzle
STIR FRY SALAD...$11
Frisee, romaine, sautéed bean sprouts roasted cashew, scallions, radish. Sesame seeds, and a gochujang vinaigrette
add chicken...$5
add shrimp...$7
add steak or salmon...$9

CROQUE MONSIEUR...$13
Honey baked ham, provolone cheese, bechamel sauce, melted asiago sourdough
BUTTERMILK CHICKEN SANDWICH...$12
Jalapeno marinated chicken breast, lettuce, tomato, onion, and maple mustard on brioche
BLT...$9
smoke house bacon, lettuce, tomato, roasted garlic aioli, white toast
TURKEY CLUB...$12
Candied bacon, smoked turkey lettuce, tomato, roasted garlic aioli, white toast
RIDGE BURGER...$9
Ridge burger, lettuce, tomato, onion, aged cheddar cheese, roasted garlic aioli on brioche
VEGAN PATTY "BURGER"...$10
Shane's secret vegan patty, lettuce, tomato, onion, green goddess, on house made sourdough English muffin

STEAK FRITES...$19
6 oz hanger steak marinated in chimichurri, served with hand cut fries, broccolini, and a bordelaise sauce
TRUFFLE MAC AND CHEESE...$16
Penne in truffle parmigiana cheese sauce, crispy breadcrumb topper
SEAFOOD PASTA...$19
Linguini with cherry tomatoes, mussels, calamari, shrimp in a picada sauce

ADD ANY SIDE...$5
Cole Slaw
Onion Rings
French Fries
Pasta Salad
Broccolini
Sweet Fries
*Consuming raw or undercooked meats, poultry, seafood, shellfish or eggs may increase your risk of foodborne illness