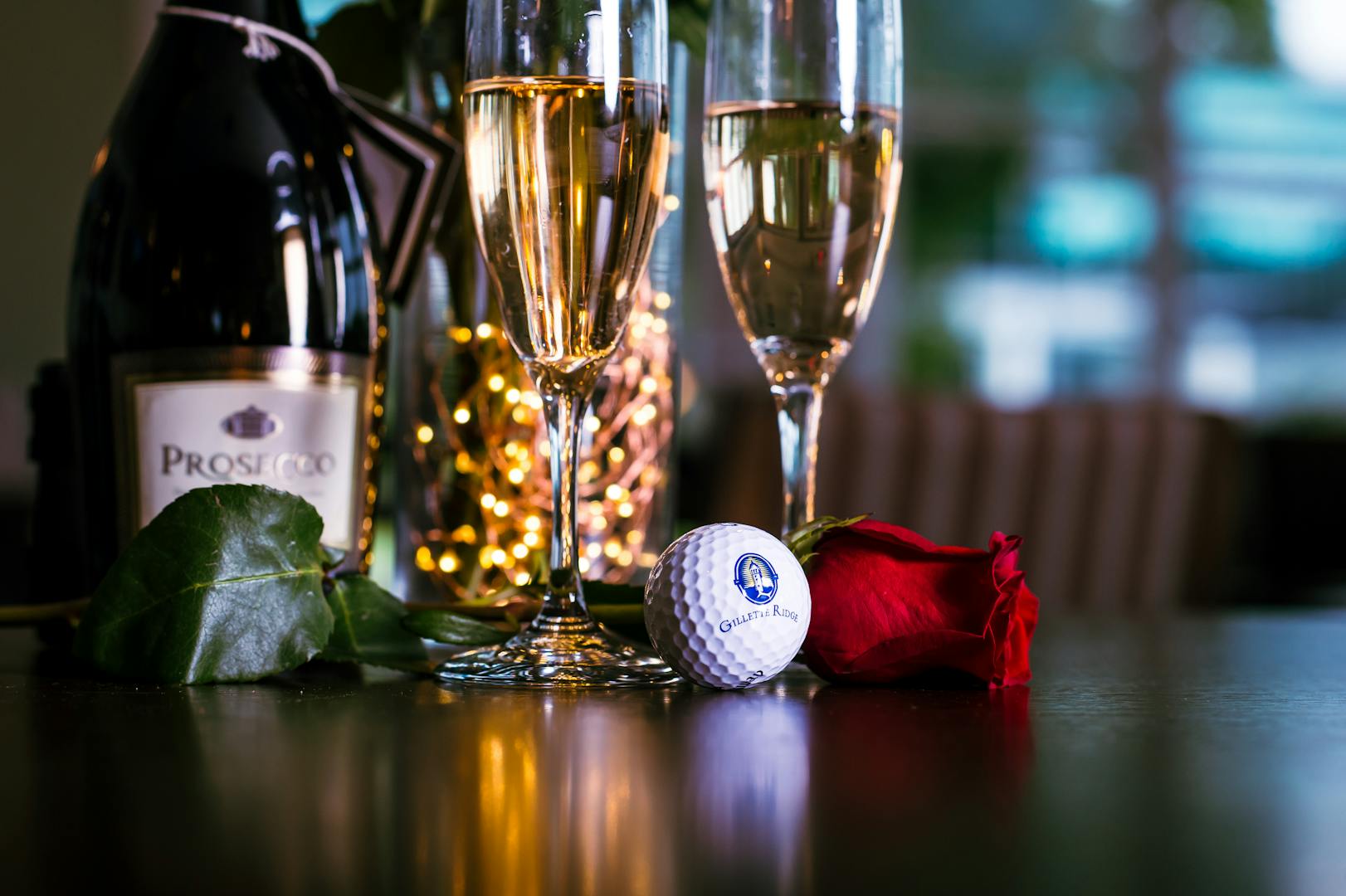 The restaurant at Gillette Ridge Golf Club is more than a great place for a beer after your round.  With multiple flat screens and a full-service kitchen and bar, this is a great location to watch the big game, have lunch with friends, or melt your work worries away with a quick happy hour retreat!
Our beautiful outdoor patio looks over the 10th and 18th holes, making this "the place" to watch the sun set over our beautiful Connecticut landscape. For your special event, we transform the space into one of Hartford's best wedding and special event venues. If a stark hotel banquet room is not your style, this intimate setting provides the perfect location to host friends and family on your big day!
The restaurant at Gillette Ridge Golf Club is open from 11am until 6pm Monday thru Friday. The beverage cart will run during play, and small snack items will be available for purchase in the golf shop. We are still taking reservations for private events outside of the normal operating hours!

SOUP OF DAY ... $ 6 / $9
Chef's pick
CARAMELIZED BRUSSELS ... $8
Pan seared sprouts, orange marmalade
CHICKEN WINGS ... $8
6 crispy fried wings, carrots celery and blue cheese. Tossed with your choice of sauce: Buffalo, BBQ, Jalapeno. Garlic Parm or Dry Rub
CHEESE QUESADILLA ... $8
Melted cheese with bell peppers and pico de gallo, in a toasted tortilla served with a side of fire roasted salsa and sour cream

RIDGE CAESAR SALAD ... $10
Romaine hearts, focaccia croutons, shaved parm & house-made dressing
GREEK SALAD ... $12
Chopped romaine, cherry tomato, cucumber, red onion, feta cheese, kalamata olives, & red wine vinaigrette
ASIAN CHICKEN SALAD ... $14
Napa cabbage, romaine, carrots, bell pepper, cashew, chicken, wonton strings & peanut vinaigrette
APPLE WALNUT SALAD ... $12
Romaine & spring mix, sliced apples, candied walnuts, crumbled blue cheese, onion & balsamic dressing
ADD: STEAK OR BEYOND BURGER $11, SALMON OR SHRIMP $10, BEEF BURGER OR GRILLED CHICKEN $7

CHICKEN ... $3ea
Avocado, pineapple salsa, fresh cilantro
BLACKENED SHRIMP ... $3ea
blackened shrimp, pineapple jalapeno salsa, chipotle aioli, cilantro slaw
PORK CARNITAS ... $3ea
Marinated cabbage, taco sauce, pickled red onion, fresh cilantro
STEAK ... $3/each
Marinated steak, house made jalapeño jam, pico, feta, fresh cilantro
RIDGE BURRITO ... $12
Your choice of chicken, steak, pork. Wrapped with jasmine rice, black beans, jalapeño jam, pico & shredded cheeses.

Comes with a choice of chips, waffle fries, or sweet potato fries
CHILI DOG ... $8
Local Mucke's dog on a warm pretzel roll with beef chili shredded cheddar
THE RIDGE CHEESE BURGER ... $14
Toasted brioche bun with lettuce, tomato, onion & zesty burger sauce
BLUE BURGER ... $15
Local blue cheese, roasted garlic aioli & BBQ onions
CHIPOTLE CRUNCH BURGER ... $15
Chipotle puree, smoked gouda, jalapeño jam, avocado, tortilla chips

Comes with a choice of chips, waffle fries, or sweet potato fries
COUNTRY REUBEN ... $14
Corned beef, Swiss cheese, sauerkraut & house made dressing, on toasted rye
CHICKEN CAESAR WRAP ... $12
Grilled chicken, romaine hearts, parm cheese, croutons & house made dressing
THE OINKER DELUXE ... $14
Piled high opened face pork shoulder, crispy bacon, coleslaw, and BBQ sauce, on your choice of brioche bun or Texas toast
CALIFORNIA WRAP ... $12
Lettuce, turkey, bacon, avocado & chipotle aioli
MEDITERRANEAN PITA ... $10
Toasted pita with roasted veggies, house made hummus & crispy chickpeas
GROWN-UP GRILLED CHEESE ... $12
White bread, mix of American, Swiss & cheddar cheese, with bacon & tomato
WARM ROAST BEEF SANDWICH ... $15
Toasted brioche roll, warm roast beef, cheddar cheese, horseradish mayo, lettuce, onion & tomato
MARGARITA CHICKEN SANDWICH ... $14
marinated and grilled with garlic aioli, lettuce, tomato, onion on a brioche bun

HOUSE MADE COOKIES ... $5
3 cookies freshly baked daily
WARM BROWNIE SUNDAE ... $10
Vanilla ice cream, chocolate sauce, candied walnuts, whipped cream
BERRY SHORTCAKE STACKS ... $8
macerated local berries, layered w fresh whipped cream & yellow cake
KEY LIME PIE ... $6
served with whipped cream and powdered sugar
Executive Chef:  Jeremy Archer
*Consuming raw or undercooked meats, poultry, seafood, shellfish or eggs may increase your risk of foodborne illness